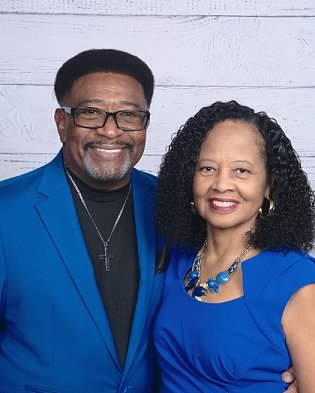 Pastors Waverly and Dr. Mickey Collins

Malachi House Life Center
"A Moment N Time Church Online"
Pastor Waverly is a retired veteran that has worked in private industry in various management positions to include food service management, facility management and security. Dr. Mickey has over 25 years of leadership, corporate training and human resources experience. Dr. Collins has executed numerous development workshops that have empowered individuals and companies to become successful in many endeavors. Pastor Waverly and Dr. Mickey have been in ministry over 25 years spreading the Gospel of Christ locally in the United States as well as internationally in India and Africa.
Mission
Our purpose is a Global Mandate to preach and teach the Word of God to all people, everywhere and to equip followers of Christ in living out the Great Commission in this dispensation of time.
Matthew 24:13-14 "Because of the multiplication of wickedness, the love of most will grow cold. But the one who perseveres to the end will be saved. And this gospel of the kingdom will be preached in all the world as a testimony to all nations, and then the end will come.…"
CHURCH HISTORY

Malachi House Life Center Church is a branch of the Malachi House International, Inc. (MHI). MHI is a nonprofit organization providing holistic services and ministry to people who are in need of physical, emotional and spiritual growth; and the MHLC School of Theology is the Biblical Education and Training arm of the MHI. These three entities reflect a tri-fold ministry that provides holistic assistance to people who are seeking the Lord.
We believe in the triune God and that Jesus Christ is truly God and truly man, the redeemer of mankind manifested in the Father, Son and Holy Spirit.

We believe that the scriptures are the ultimate authority of the revelation of God, and that the Old and the New Testaments are the inspired, infallible, and revealed will of God.

We believe that every Believer should belong to and be associated with a local New testament Church and be subject to Pastoral guidance and care.

We believe in the operation of the 5-fold ministry offices and gifts (Apostles, Prophets, Evangelists, Pastors and Teachers) and that Jesus is the Sovereign Head of the Church.

We believe in the in-filling of the Holy Spirit as a fulfillment of the promise of the Father with the initial physical sign of speaking in other tongues.

We believe in water baptism and the observance of Holy Communion as ordinances of the Church.

We believe in the physical resurrection of the Lord Jesus Christ and the Blessed Hope of His personal, visible and imminent return.

We believe in the formal, intentional and spontaneous praise and prophetic worship of almighty God as a demonstration of corporate as well as individual acknowledgement and response to His person and His word.